Whether you had a light crash while entering your garage or your child threw a toy at your car, cracking your windshield, we know how difficult the trip to an auto glass repair shop can seem. Sometimes, you are just too lazy to get behind the wheel. If any of this sounds familiar, we have good news; we can come to your home or office at no cost! Just contact us at Complete Glass Service, and we'll be there before you realize it.
How we will fix your windshield
Depending on your preferences, we can use one of three windshield replacement methods: resin injection, adhesive, or sealant.
Resin injection
This is the most common method used by windshield repair companies. We drill a small hole in your crack or chip and inject resin to fill it up, securing its integrity for an extended period.
Adhesive Method
This is one of our preferred methods, especially when dealing with more minor chips that are not too deep. The process involves us applying a special adhesive to the back of your windshield and pressing it against the crack or chip. It may not be as strong as resin injection but can hold for about four months before you need a replacement.
Sealant Method
This method is more temporary than resin injection and adhesive methods because we use an epoxy-based sealant to cover the entire windshield. It is a small price to pay if you only need it temporarily until your next service appointment.
What you should know about our windshield repair service
We can come to your premise
Our mobile windshield repair service can get anywhere you are. You don't have to worry about driving miles to get to a repair shop. Once you give us a call, we will deploy our technicians right away together with all the tools required for the repair job.
We offer free estimates for our services
If you are worried about how much it will cost to replace or repair your windshield, worry no more! Our team is happy to come out and inspect the damage first-hand before giving you an estimate. This way, there won't be any surprises when we give you a quote over the phone.
We only use the best quality materials
Our technicians are trained to make sure you get a great job done. Our equipment is state-of-the-art, so we can guarantee that your new windshield will be safe from any cracks or chips in the future.
We work on all car models
We know how precious your car is to you. That's why we're more than happy to come out and help with any automotive needs, no matter the make or model! We can fix all sorts of vehicles, including sedans, trucks, SUVs, even classics like Mustangs or Camaros.
We work very fast
One of the reasons why we are one of the best windshield repair services is our speed. We know how important it is to get your car back up and running as soon as possible! Our technicians can finish the job without taking too much of your time or messing up your day's schedule.
What are the benefits of repairing your windshield?
Deciding to fix the crack in your windshield comes with the following benefits:
Saves you money
Fixing a crack in your windshield in good time helps to save you money in the future. A small fracture can easily grow into a bigger crack when left unattended. If this happens, you will have to pay more money for a complete windshield replacement.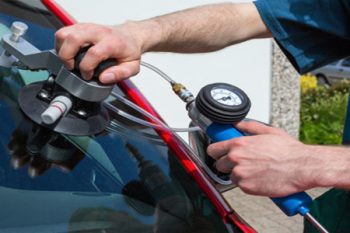 Protects your car's safety
Fixing the damage immediately can help keep your car safe from further accidents. If the crack is near where the driver sits or another part of their line of sight, it could become dangerous when driving fast on highways or in other situations where you need to pay attention.
Keeps your windshield in good condition longer
By repairing the crack, chip, or fracture on time, we can help keep it from growing bigger and compromising the integrity of your windshield. This helps keep your car in good working order for much longer.
Need mobile car windshield repair?
With more than 20 years of performing windshield repair in Portland, we not only do the job right, but we get it done fast too! Our technicians can fix all kinds of windshield breaks including dings, chips, edge cracks, as long as it's still repairable. For any irreparable damages, we'll provide you with the best windshield replacement solutions. Trust Complete Glass Service to get you back on the road with peace of mind.
FAQ
How much does windshield repair cost?
The cost of windshield repair varies depending on the extent of the damage.
What is a mobile car windshield service?
A mobile car windshield service means that we come to you! Instead of driving all over town, waiting in line at the auto store, or scheduling a time to come by our office, we can bring the repair shop right to you.
What could cause a crack?
Several things can cause a crack. Some of the most common reasons are rocks, dirt, and pebbles that fly up off other vehicles or objects on the road, as well as potholes & debris damage to your car's windshield.
Should I repair or replace the windshield?
The best option for your windshield depends on the extent of the damage. If it is a small crack or chip that can be repaired, ask us about our windshield repair service today! Replacing the entire glass will cost more in labor and materials but may be worth doing if you prefer not to fix it yourself.