It is an unwritten rule of the road that at some point, a stone, twig, or other debris will lead to a cracked windshield. And when this happens, you must find a way to handle the situation before it gets too dangerous. If you are DIYer, chances are you'd want to fix the chip at home. But is it a good idea to do it yourself, or should you take your car to a repair shop? This blog post will guide you into making the right decision.
What are the dangers of a cracked windshield?
A chipped windshield has the potential to compromise your safety on the road in the following ways:
Reduced visibility
If the crack on your windshield is directly in your line of sight, it can easily undermine your driving, especially in rainy weather. You run the risk of colliding with oncoming traffic, putting your life and that of your passengers in danger.
Fracture expansion
A crack is an opportunity for pressure to build up inside your windshield that can cause it to shatter. Not only that, but a smaller crack in your windshield will be much easier and cheaper to fix than a bigger one. Waiting too long can cause the crack to spread, and you might have to end up replacing your windshield altogether.
Compromised structural integrity
All windows are designed to resist impacts from all kinds of debris, including stones and other sharp objects on the road. But a crack reduces this protection by compromising part of your car's structure. A small windshield chip can turn into a large one, compromising your windshield's structural integrity.
How to fix a crack in the windshield?
If you decide to fix the crack on your own, here's what you need for windshield chip repair:
A suction cup
Glass cleaner
Hammer and razor blade or glass cutter
Glue (preferably with an applicator) – only opt for glue that your car manufacturer has approved.
Fiberglass mesh tape and resin
Once you have all the tools on hand, follow the steps below to repair your crack:
-To start, clean the area around the crack with a window cleaner and dry it well before proceeding to the next steps.
-Position your suction cup over the crack on one side of your windshield so that you can pull out as much air from inside it.
-Now, apply some resin or glue onto this section using an applicator (you may use a toothpick if you do not have an applicator).
-Once the resin has dried, use your hammer and glass cutter to remove it. Repeat this process on the other side of your windshield so that you can attach both sides and seal off the crack.
If you lack experience, please do not try this at home, as it can cause harm to you and make the damage to your windshield worse. It's a task best left to the professionals!
Can I fix a crack in my windshield on my own?
Depending on the size of the chip, you may be able to restore your car's windshield. But if the windshield chip is too large, you might need to take your vehicle to a professional repair shop. This job should be left for professionals at a windshield chip repair shop as there are some safety considerations that DIYers may not have in mind.
What can happen if you try fixing a cracked windshield?
Most people think they can easily repair cracks on their car's windshields with a DIY windshield repair kit. But what most do not know is that there are downsides involved in this process. Some of these include:
You only get one chance to repair the windshield chip
If you do not apply the resin or glue correctly, it will be too dry to fix a second time. And if that happens, your windshield may end up being even more damaged than before, leading to more significant problems. As such, you want to get it right the first time!
You risk causing further damage
While removing the crack from your car's windshield using tools such as a hammer and windshield glass cutter, you run the risk of causing further damage. The tiny particles that get released during this process may scratch other areas on your windshield, which can become very difficult for professional repairers to fix later or require an entire windshield replacement.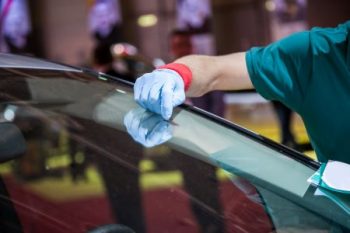 You do not have access to the tools required
Some windshield cracks require special tools to fix. These include too large cracks or in the "V" of your windshield, which can compromise its structural integrity when not repaired properly. If you do not have access to these tools, it may be best for you to leave this job up to a pro rather than risk causing further damage.
Your car insurance company won't cover DIY kit
If you have insurance for your windshield, it will only cover the cost of windshield repairs if done by an auto glass professional. Otherwise, they may not guarantee its quality if anything goes wrong after misusing the resin or glue. This can lead to further damage to your car's windshield down the road.
How big is too big?
Some windshield chips are too big to repair yourself and require a professional auto glass technician to fix them. If the windshield crack is the size of a pea or larger, you may not be able to fix it with a windshield repair kit. It can compromise your windshield's structural integrity and end up causing further damage if not repaired by professionals. If the crack is too wide to apply resin or glue (around an inch), you will likely need to get a complete windshield replacement, which should only be done at an auto glass shop for safety purposes.
Need Windshield Repair?
If you have a windshield crack that's hampering your driving on the road, it might be time to take it to an auto glass repair shop. Not to worry! At Complete Glass Service, we can fix your windshield and get it back in top shape again. Our trained technicians will work hard to get you back on the road in no time. Call us or visit our auto glass Portland shop today!